Page 3 of 4
Natuur en landschap
Mheer ligt op het Plateau van Margraten, op een hoogte van ongeveer 150 meter.
Ongeveer de helft van het dorp ligt in het droogdal de Horstergrub. In de omgeving van Mheer liggen hellingbos, zoals het Hoogbos en, in België, het Altembroek. Verder zijn er enkele holle wegen.
Evenementen
Door het jaar zijn er terugkerende evenementen.
Januari: Op de zondag het dichtst bij 20 januari is de Sint Sebastianuskermis, waar schutterij, harmonie en zangkoor aan deelnemen. Verder zijn er verschillende carnavalszittingen.

Februari: Tijdens de drie dagen van carnaval, en op de dagen vooraf, organiseert de carnavalsvereniging tal van activiteiten. Op de zondag erna is het Voonk, Voonk, Fakkele, waarbij kinderen langs de deuren gaan voor snoep of geld.

April: Het zangkoor organiseert het Passieconcert in de dagen voor Pasen.

Mei: De Jonkheid haalt op de eerste zaterdag van mei de Mei-Den, met een twintigtal trekpaarden, uit het Bovenste Bos bij Epen. Op Hemelvaartsdag is het vogelschieten van de schutterij.

Juni: Een week na Pinksteren is de voorjaarskermis, ofwel de Broonk.

September: Op de derde zondag van september is de Sint Lambertuskermis, waaraan schutterij, harmonie en zangkoor deelnemen.

November: Op de eerste zaterdag van november is op en rond het kasteel de Slipjacht voor jachtvereniging Soestdijk.

December: In de dagen voor Kerstmis was voorheen het Kerstconcert van het zangkoor. Sinds 2015 is dit vervangen door een ludieke kerstwandeling genaamd "Oonderweeg nao Keersjmes". Tussen kerst en nieuwjaar organiseert de Jonkheid een dropping. Het kerstmarktcomité organiseert al sedert 1995 begin december een kunst- en kerstmarkt in gebouwen van en op het plein van Kasteel Mheer.
Een andere traditie die typisch is voor Mheer, is het Huule. Wanneer een weduwe of weduwnaar opnieuw trouwplannen heeft, gaat de Jonkheid lawaai maken voor hun huis. Pas als men ingaat op de eis (meestal enkele tonnen bier), wordt het Huule gestaakt en wordt het 'huulbier' opgemaakt. Deze activiteit vindt niet zo vaak plaats. De laatste edities waren in 1963, 1987 en 2012.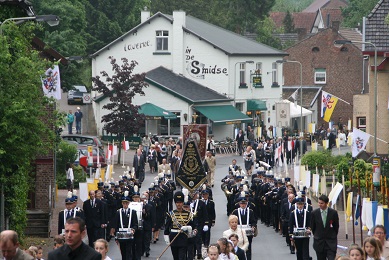 Verenigingen
sinds 1567: schutterij Sint Sebastianus

sinds 1690: jonkheid Sint Aloysius

sinds 1821: harmonie Sint Cecilia

sinds 1852: zangkoor Sint Gregorius

sinds 1952: voetbalvereniging Mheerder Boys (voorheen R.K.M.F.C.); vanaf 1 juli 2009 genaamd BMR, na fusie met Banholtia en Reymerstokse Boys

sinds 1952: carnavalsvereniging De Sjravelerre

sinds 1959: ZijActief (voorheen Boerinnenbond en L.V.B.)

sinds 1978: blaaskapel "de Bergweider Musikanten" (voorheen ook "de Bölkes")

sinds 1982: parochieblad "D'r Klabatter"

sinds 1983: tennisvereniging De Gelimmet

kerkbestuur van parochie Sint Lambertus

jeugdvereniging JeVeMhBa

heemkundevereniging

seniorenvereniging

biljartclub

dansgroep JUMP