Page 3 of 4
Sinds 1968 wordt de "broonk" in Mheer een week eerder gehouden en sindsdien kan het vogelschieten uiteraard niet meer op Sacramentsdag worden gehouden omdat deze donderdag in deze nieuwe situatie in de week na de "broonk" zou vallen.
Toen heeft men besloten om het vogelschieten te houden op Hemelvaartsdag en dit is tot op heden zo gebleven.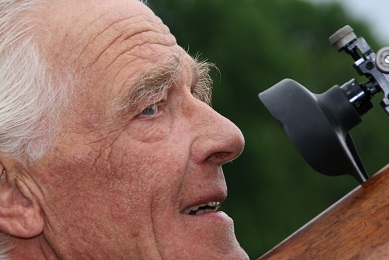 Hoe verloopt nu zo'n dag die bol staat van tradities en waarin de spanning soms hoog kan oplopen?
Omstreeks 14.00 uur verzamelen de leden van de schutterij in het schutterslokaal om van daaruit de koning aan zijn woning af te halen en te begeleiden naar de schietweide.
Sinds 1945 wordt het vogelschieten gehouden in een weide achter het kasteel, maar voorheen schoot men in een weide tegenover de kerk op de hoek Nieuwstraat/Jonge Hagen (nu Duivenstraat/Burg. Beckersweg).
Aangekomen op de schietweide maakt de schutterij front naar de schietmast waarop de houten vogel al geplaatst is.
Een ongeschreven wet zegt dat de kop van deze houten vogel moet wijzen in de richting van het huis van de 'oude' koning en zo gebeurt dat dan ook.
De schutterij brengt eerst een groet aan de houten vogel waarna het vaandel en de koning officieel het gelid verlaten.
Nadat de schutterij is ingerukt, neemt de voorzitter het woord om alle aanwezigen welkom te heten.
Traditiegetrouw wordt dan een gedeelte van het reglement van het vogelschieten voorgelezen en pastoor gaat voor in een kort gebed.
Dan is het moment gekomen dat de koning de tekenen van zijn waardigheid moet inleveren.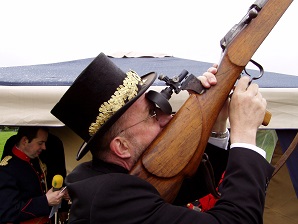 Dat is op de eerste plaats de zilveren koningsvogel, de zilveren schilden, het zilveren kroontje en de driekleurige sjerp.
De schietmeester heeft inmiddels de grote buks op de aanlegpaal gelegd, zodat de koning het openingsschot kan verrichten.
Hierna komen dan aan de beurt : de burgemeester, de pastoor, de beschermheer, de erevoorzitter, het ere bestuur, de voorzitter, het bestuur en de leden van de schutterij.
Vervolgens kunnen alle mannelijke inwoners van de parochie Mheer die 18 jaar of ouder zijn mee schieten.