Page 4 of 4
Als iedereen zijn beurt heeft gehad, begint de koning weer aan de volgende ronde en zo gaat het dan verder, ronde na ronde tot op een gegeven moment iemand de laatste restjes hout van de stang schiet en daarmee koning wordt van de schutterij.

Onder luid gejuich gaat de nieuwe koning dan op de schouders en iedereen verdringt zich rond de gelukkige om hem te feliciteren.
Als de euforie om de winnaar een beetje gezakt is en er een pilsje gedronken is op de nieuwe "heerser", begint de "ceremonie protocolaire".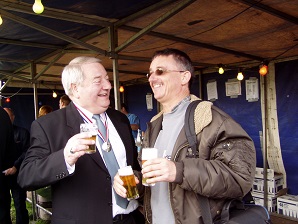 De nieuwe koning wordt in een korte speech door de voorzitter gefeliciteerd, waarna hem de versierselen worden uitgereikt die zijn waardigheid van koning moeten benadrukken.
Als eerste krijgt hij de sjerp in de nationale kleuren omgehangen.
Vervolgens krijgt hij het vest met de zilveren schilden omgehangen en hieroverheen de zilveren vogel.
Als kroon op het werk wordt hem het kroontje op zijn hoed gezet.
Tenslotte krijgt zijn (eventuele) echtgenote of vriendin een bos bloemen aangeboden.
Als de koning dan in vol ornaat voor het publiek staat, wordt ter zijner ere het geweer gepresenteerd en de tamboers spelen het Wilhelmus op de trom. 
Hierna daveren de kamers over het dorp om alle inwoners te laten weten dat de schutterij een nieuwe koning heeft.
Na deze officiele inhuldiging van de nieuwe koning volgt een rondtocht door het dorp van de schutterij met in haar midden de trotse nieuwe koning van de schutterij.
Overal waar de stoet langskomt wordt hij luid toegejuicht en wordt er enthousiast geklapt.
In de plaatselijke horecagelegenheden wordt natuurlijk op zijn gezondheid gedronken.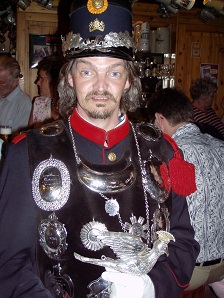 Eindpunt van de rondgang door het dorp is uiteraard het schutterslokaal.
Hier verdringen vooral de oud-koningen zich rond de nieuwe koning om hem met goed-bedoelde raad bij te staan.
De dame, die aangekondigd heeft om de nieuwe koning in zijn koningsjaar te begeleiden als koningin, wordt ook overstelpt met aanwijzingen en instructies over kleding, kapsel, schoeisel, bloemen enz....
Het is meestal een dag later als de nieuwe koning door de officiele instanties, zijnde de voorzitter of een ander bestuurslid, op de hoogte wordt gesteld van zijn rechten en plichten in zijn regeringsjaar.
Maar op de avond van Hemelvaartsdag is de nieuwe koning en de eventuele nieuwe koningin het stralende middelpunt en klinkt menigmaal het lied "D'r bitste sjut..."