Page 2 of 5
In Mheer wordt de Den op de eerste zaterdag van mei gehaald en geplant.
Mei is de maand van de weer ontluikende natuur die zich klaar maakt om vrucht te dragen.
De bloeimaand is een periode van vruchtbaarheid en van bevruchting.
In mei legt immers iedere vogel een ei. Het is de tijd waarin de dieren zich vermenigvuldigen en de meeste gewassen beginnen te bloeien.
In een tijd dat de bevolking nog volledig afhankelijk was van de welwillendheid van de natuur plantten zij aan de vooravond van deze jaarcyclus een Mei-den op een centrale plek in de gemeenschap.
Meestal kwam deze boom uit een heilig bos.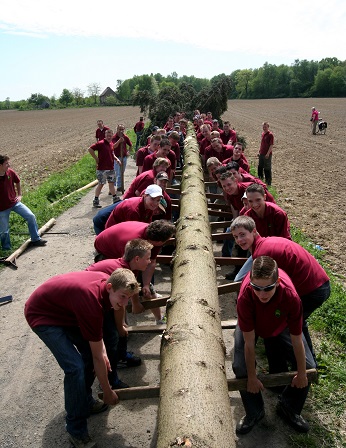 We kunnen de boom zien als een soort van offer aan een hogere macht, aan een godheid. De Mei-den werd, en wordt nog steeds, ieder jaar vernieuwd. Dit symboliseert de natuurgeest die ieder jaar ritueel sterft en herrijst.
De heidense volkeren vierden in de nacht voorafgaande aan 1 mei Vanadisnacht, beter bekend onder de gekerstende naam Walpurgisnacht of het Keltische Beltane. Vanadis is één van de namen van Freya, de godin van magie en mysteriën en van liefde en lust.
Het is een feest waarop in oude tijden de vreugdevuren ontvlamden en jonge geliefden elkaar vonden.
Er werd een Meiboom geplant die dan ook waarschijnlijk werd opgedragen aan Freya, godin van de vruchtbaarheid.
Nadat de Meiboom was opgezet, werd rond de boom gedanst en gefeest.
Dit is een essentieel gegeven, want mede hierdoor bleef dit gebruik tot op de dag van vandaag bewaard.
Uit de overlevering is bekend dat de vooravond van 1 mei nog tot in de 19e eeuw door de ongetrouwde jeugd van Mheer gevierd werd.
In die nacht plaatsten vrijgezelle jongens anoniem een dennenboompje voor het huis van hun geliefde.
We kunnen dit vergelijken met het versturen van valentijnskaarten die verliefden elkaar tegenwoordig anoniem toesturen.