Page 4 of 5

In 1634 heerste in onze streek de pest. De pestepidemie zorgde voor grote sterfte onder het vee.
De inwoners van Noorbeek besloten om een dennenboom te halen en plaatsten deze op het dorpsplein naast de kerk.
Hieruit blijkt dat zij de boomverering nog lang niet vergeten waren, sterker nog, door een dennenboom aan St. Brigida te offeren geloofden zij dat de zwarte ziekte zou uitblijven en het vee weer vruchtbaar werd.
Wel zien we dat de Den gekerstend wordt; de boom wordt niet meer opgedragen aan een heidense godheid maar aan de heilige Brigida uit het christelijk gedachtegoed.
We weten niet of de toenmalige Mheerdenaren hetzelfde ritueel uitvoerden, maar dit moeten we niet uitsluiten.
Ook in Banholt komen we een gekerstende Mei-den tegen.
Daar wordt hij aan de parochieheilige St. Gerlachus opgedragen.
In tegenstelling tot de buurdorpen Banholt en Noorbeek is de Den van Mheer nog een echte Mei-den.
De Den van Mheer is dus de meest 'heidense' van de drie.


Den in Mheer
Ergens tussen 1927 en 1930 wordt er in Mheer weer begonnen met het planten van Mei-den, en wel op de eerste zaterdag van mei.
Waarschijnlijk is het Den-halen in Mheer op zich ouder, maar zorgde de eerste wereldoorlog voor een korte onderbreking.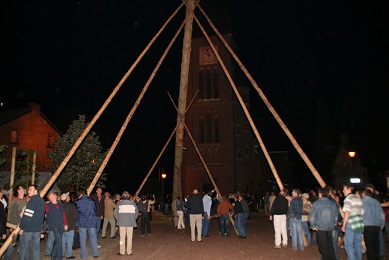 Vanaf die tijd tot nu is er weliswaar het een en ander veranderd, maar de kern van het gebeuren is nog steeds aanwezig: er wordt een den uit een bos gehaald en rechtgezet op een centrale plek in het dorp.

Het groepje Mheerdenaren dat het initiatief nam om het Den-halen weer te laten herleven, noemde zich de Mei-club.

Tot in 1950 was de Mei-club belast met het organiseren van het Mei-den gebeuren.
Daarna nam de jonkheid haar taak over.