Page 3 of 5
Kerstening
We hebben het tot nog toe alleen maar gehad over heidense gebruiken. Hoe valt het dan te verklaren dat de Mei-den planting tot op de dag van vandaag voortleeft?
Tweeduizend jaar geleden deed het Christendom officieel zijn intrede, maar dat betekent natuurlijk niet dat iedereen vanaf dat moment ook daadwerkelijk Christen was.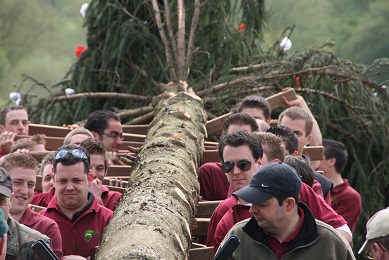 Binnen het Romeinse Rijk was er plaats voor vele goden.
Evenals de andere heidense volkeren waren de Romeinen polytheïsten.
Andere religies werden door Rome getolereerd en dat gold ook in eerste instantie voor het Christendom. De Romeinen vereerden hun voorvaderen en met hen vele goden, ook de keizer zelf werd als een god vereerd.
Een van de basisprincipes van het Christendom is het geloof in één god.
Alle verering van andere goden werd gezien als afgoderij en werd daarom verboden.
Dit is een voorname reden waarom de Romeinse keizers in conflict raakten met het Christendom. Later, rond 315 na Chr., schenkt keizer Constantijn de Grote weer volledige godsdienstvrijheid aan de Christenen.
Na zijn dood wordt het Christendom zelfs tot enige erkende staatsgodsdienst van het Romeinse Rijk verheven.
Het Christendom breidde zich gestaag uit en daarbij moesten de heidense natuurgodsdiensten plaats maken voor het christelijk geloof.
Het behoeft geen uitleg dat dit niet zonder slag of stoot verliep.
Ontneem een volk hun geloof, ze blijven de gewoontes en tradities van hun voorvaderen voortzetten.
Veelal kwamen de christelijke leiders de heidenen halverwege tegemoet en werden heidense gebruiken ingepast in christelijke feesten en gebruiken.
Dit proces van verchristelijking noemen we de kerstening.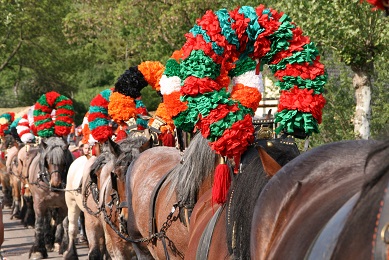 Door het Christendom werd zo de meimaand uitgeroepen tot Mariamaand, waarbij men probeerde de verering van de heidense vruchtbaarheidsgodin om te buigen naar een verering van de Heilige Maagd.
Maar uit de overlevering over de oorsprong van het Den-halen in Noorbeek blijkt dat de plaatselijke bevolking nog lang bleef hechten aan heidense gebruiken als de boomverering.